The next century mark begins...
Post 101!! Whooooooooo!!
Dang, it just doesn't have the same ring to it.
I am halfway into my first short story with two days left to complete it so I should finish up right on time. It's pretty much all I've been doing this weekend. If you are curious as to what it is about, I advise you to listen to the song "Extravaganza" by Jamie Foxx. I used this song as a basic premise and then added a lot on top of it. I won't be writing any of it tomorrow night, however, because I will be watching the 79th Annual Academy Awards and I wanted to take this time to make my picks for the big 5. I only got one wrong last year, let's see if I can top that.
Best Actress in a Supporting Role: Jennifer Hudson
She's the odds on favorite and since Cate Blanchett spells her name with that insufferable 'C' instead of a 'K', I don't smell an upset here. The Academy respects common sense as well as acting talent. I'd love for Olive (Abigail Breslin) from
Little Miss Sunshine
to get it, but that isn't going to happen.
Best Actor in a Supporting Role: Mark Wahlberg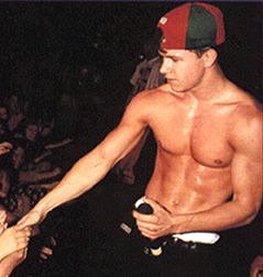 This is a risky pick. I don't believe Scorsese will win Best Director for
The Departed -
Unfortunately, he'll lose out to Eastwood again who did
Letters from Iwo Jima
- but this movie has to win for something. Eddie Murphy is the favorite, but I think the Academy will punish Eddie for making
Norbit
and he will be snubbed. Plus, Marky Mark has those good vibrations.
Best Actress in a Lead Role: Helen Mirren
This one isn't even close. If she doesn't win, you'll hear hissing and angry shouts from the crowd and all hell will break loose. Don't worry about the Queen though, Sergeant Frank Drebin has been assigned to shield her from any possible chaos and, most importantly, to protect her from Reggie Jackson. (Please tell me somebody got that.)
Best Actor in a Lead Role: Forest Whitaker
It's about time Forest wins an Oscar! He's one of my favorite actors and was completely shut out from even a nomination for his work in
Ghost Dog: The Way of the Samurai
. That is easily one of the best 2 or 3 movies I have ever seen in my life. I haven't seen
The Last King of Scotland
yet, but I've read that he worked his ass off for this film and that his performance is breathtaking. If he doesn't win, I'll be almost as upset as I was when the Bears lost the Superbowl.
Best Picture: Umm...Letters from Iwo Jima?
Best Picture is a crapshoot this year. I've heard that the Best Picture winner is often times the Best Director winner, but 1) I don't know if I buy that, and 2) it didn't happen last year. I really liked
Little Miss Sunshine
, but I don't expect it to win. I can see
The Departed
winning, but I'll be pissed if Scorsese wins this and doesn't win for Best Director. What I want is for the Academy to cop out and give Scorsese the Directing Oscar he deserves for both
Raging Bull
and
Goodfellas
, and if this happens Eastwood will certainly win Best Picture. But really, who knows?
I really hope Ellen isn't awful like she usually is.