So sweet it's diabetic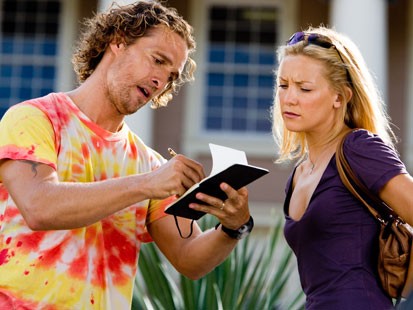 I think this picture perfectly illustrates the dumbness of
Fool's Gold
. How bad is this movie?
"There's more continuity in an episode of
Teletubbies
."
-Phil Villarreal,
Arizona Daily Star
-
"It's like Raiders of the Lost Ark, only for retards."
-Jon Popick,
Planet Sick-Boy
-
"It's early in the year, but I defy any 2008 comedy to be as stupid, slack and sexless as
Fool's Gold
. And I'm counting Paris Hilton's appalling
The Hottie and the Nottie
, which is marginally better."
-Peter Travers,
Rolling Stone
-
And just in case you're wondering, this is what Peter Travers had to say about
The Hottie and the Nottie
, which apparently also comes out today.
"That generous half star rating I tacked onto to this comedy abomination is all for Paris Hilton. Come on, it takes guts (or gross dim-wittedness) to appear on screen again after
House of Wax
."
Don't you just love Hollywood?