Olympics Update VIII
I was without internet access for two days! I almost died! Then I went on a mini-vacation and when I finally got back to the real world, turns out I've missed a lot. Not only is Bigfoot not real, but Amanda Beard thinks Michael Phelps is hideous! Let's catch up on all the action with an Olympic-sized post!
#1:
The United States is poised to be the first country to break the 100 medal mark as they currently have 95. China will follow soon after, as they hold 83 medals, but even more impressive is that China almost has as many gold medals as Russia, who is third in the medal count, has total medals. With so many medals to win during the summer games, you'd think third place would have more than 51. Embarrassing performances from all major countries except China and the US.
#2: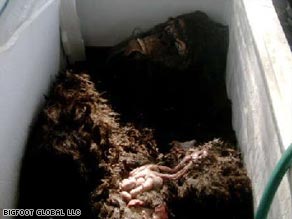 Tom Biscardi looks like a total asshole (as if a professional Bigfoot hunter didn't
already
look like a total asshole) after Joe Bob and Bob Jim from Ballsac, Georgia revealed that their I-found-Bigfoot's-dead-carcas gag was just a big scam. I'm kinda bummed, but not in the least surprised by this turn of events, and it goes to show everyone that while maybe some mythical creatures or paranormal activities aren't out of the realm of possibility, backward-ass rednecks are dirty liars. This is just one of the reasons backward-ass rednecks are universally hated, by the way. Apparently, these two brothers/father and son/uncle and grandpa bought a Bigfoot costume on the Internets (Rednecks know how to use the Internets?) and stuffed it with roadkill and "slaughterhouse leftovers". This brings us to another reason we all hate white trash, they are willing to handle and bag slaughterhouse leftovers. Too bad, MonsterQuest. You almost had something.
#3:
More gymnastics controversy! (Only some of it legitimate.) Yes, Anastasia Liukin got a raw deal on the uneven bars. If you're going to drop high and low scores to eliminate some type of judging error, your tiebreaker cannot be just adding those scores back in. Why remove the high and low scores in the first place, then? The process becomes self-defeating. Elsewhere, on the vault, Alicia Sacramone (
who has one hell of a left hook
) didn't deserve the bronze. It's sad she couldn't redeem her performance from the team competition with a medal, even if it was only a bronze, but the system is based on averages. Cheng Fei did a great first vault, a terrible second vault, and the average was better than Sacramone's two okay vaults. The way to fix these situations? Get some judges who know what the hell they're doing. Figure it out, IOC.
With Johnson finally getting her gold on the beam, the best 1-2 gymnastics punch since...sometime, finished this way.
Shawn Johnson - 1 gold, 3 silver
Anastasia Liukin - 1 gold, 3 silver, 1 bronze
Now the only debate left is, which gymnast was hotter? Sacramone or Liukin? And if you're creepy enough, Johnson.
#4:
Track and field yielded all kinds of stories, including today! Let's try and cover them all.
-Easily the most crushing story is defending champion Liu Xiang not being able to run the 110m hurdles due to an ankle injury, disappointing himself and an entire nation. I felt so bad for China, because I kept thinking, "What if LeBron James got hurt?" I'd probably cry myself to sleep, at least until the Olympics were over, maybe even after that. With him out, Dayron "Bookworm" Robles won the gold (which he may have won anyway), while US runners David "House of" Payne and David "Watch out for my shoulders!" Oliver picked up silver and bronze, respectively.
-Both the US 4x100m teams (men and women) were disqualified after not being able to pass the baton during the race. Bad Olympics for Tyson Gay. Gotta feel bad for him, too.
-Meanwhile, Usain Bolt continues to make every other sprinter he runs against look like they're at the wrong Olympics. Two gold medals so far, both unheard of world records, and he could pick up another one in the 4x100m finals, especially since the US and Britain are out.
-Another silver to the gorgeous Allyson Felix as she was unable to best Veronica Campbell-Brown.
-Other stuff too.
Look it up yourself.
#5:
Wondering if Olympic swimmer and
Playboy model
Amanda Beard is dating Michael "Eli Manning" Phelps? In a hilarious radio interview, she clarified everything, saying "Eww!" three times. Twice when asked is she had kissed and/or held hands with him and once after the radio DJ (whose is a fucking loser, you can tell) said that Michael Phelps had "thought about her a lot." She later said she was joking around, but really, if you look at Phelps from the neck up, "Eww!" is a correct response.
Pay no attention to the title
, she did not call Phelps "nasty," rather the thought of Phelps masturbating to her was nasty.
#6:
Not since the ERA have US women been so forceful. Misty May and Kerri Walsh repeated as gold medalists against the Chinese; a match in which they wore white bikinis in the rain. If you missed it, the replay will air all this week on Cinemax after 11:30pm. The women's soccer team won gold and avenged a World Cup loss against Brazil in a most exciting game. Hope Solo then called Greg Ryan and told him to eat shit. Undefeated Cuba was upset by the US women's indoor volleyball team, but number one ranked Brazil is next in the gold medal match. Good luck!
Not all US women's teams had success as the once untouchable softball team was beaten by Japan for the gold. Unfortunate yes, but this brings up an opportunity to bash Europe, so I'm going to take advantage. Baseball and softball are going away for the 2012 games and perhaps beyond since many European IOC members "don't get" the appeal of either sport. Or maybe it's because they can't compete. Or maybe it's because the US does well. Or maybe it's because the IOC wants more "stars" competing instead of playing in Major League Baseball. Does this mean if America had more IOC members that soccer, taekwondo, judo, wrestling, fencing, equestrian, rowing, water polo, synchronized swimming, and a host of other sports wouldn't be included since we don't like them and don't see any big names? EU? More like Pee-yew!
#7:
USA basketball rules!
#8:
Ping pong isn't really supposed to be sexy.
On the other hand, exploiting women's bodies is a pastime as old as hating immigrants.
I think I've run out of things to say for now.