Real motherfuckin' shit, motherfucker!
After a good friend
Dugg my ode to Jeff Dunham's so-called comedy
, I got a lot of angry responses from white people who either don't understand comedy, or didn't bother to read the whole thing. (Although it was probably both.) Not that I blame them entirely. The entry was quite long and was crafted with cleverness, something to which Jeff Dunham fans are not accustomed. But what I think it was that made them angry most of all, is that I hit a little too close to home. To repair my relationship with these ex, one-time readers, I thought I'd criticize the comedy of someone they most likely hate. Katt Williams. This will, of course, be the uncensored version, as any censored airings of Katt Williams' comedy are virtually unwatchable. Well, even more so. Without further ado, I present Katt Williams reviewing
Star Wars: Episode V - The Empire Strikes Back
.
Warning: Graphic language (Even for me)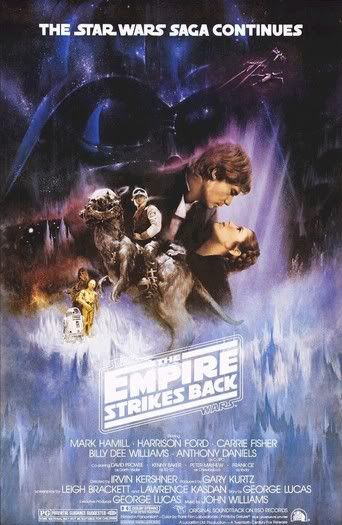 What the fuck is up, motherfuckers?! You're goddamned right! Now, I just watched this goddamn Star Wars sequel, the Empire's Strikin' Bitches, and this motherfuckin' shit was the most gangsta ass shit that I have ever seen in my goddamned life! Motherfuckers start out in this cold ass motherfuckin' planet called Hoth. Hoth? Bitch, are you serious?! Look around you! You know goddamned well all you see is ice. A motherfuckin' ice mountain. A motherfuckin'
icy
tundra. Even the motherfuckin' ice got motherfuckin' ice on it! And the only ice you can't motherfuckin' see, is the ice that's covered in snow, motherfucker! Goddamn! Hoth?! That's too close to hot, bitch, that's too close to hot. And it's so motherfuckin' cold outside, the motherfuckin' Tauntaun froze to death! Ain't that a bitch! I started gettin' cold just watchin' this motherfucker! Sittin' in my seat, shiverin' and shit.
So I go into the kitchen and get some some warm ass cocoa, and the next thing I know motherfuckin' elephant robots are shootin' some shit up! That's right, motherfucker, elephant robots! Fuck you, I know what the fuck I saw! And I saw some goddamned elephant robots shootin' motherfuckin' lasers outta their motherfuckin' tusks! Now, the rebels took down some of them bitches, but it's really just too much to ask for motherfuckin' regular ass people to stop a herd of goddamn elephant robots. That's just too much to ask, motherfucker, just too much to ask.
Now, the smart motherfuckers like Han and Luke just got the fuck out, and that's exactly what the fuck I'd have done. And Luke was cool too, just flyin' all casually and shit to the Degobah system even though he didn't know where the motherfucker was. Fuckin' R2 in the back just beepin' and shit. And he's just goin' cause a motherfuckin' ghost told him to! That's a believin' motherfucker, right there, goddamnit. But Han Solo, that's a real motherfuckin' gangsta right there. His motherfuckin' hyperdrive wasn't workin' and that motherfucker's brilliant goddamn idea was to fly into a motherfuckin' asteroid field. He said, "Fuck this, motherfuckers, you ain't catchin' me! I'll kill everybody in this motherfucker before I let your helmet-wearin' ass and your old, wrinkly dad's ass catch me!"
And back in the motherfuckin' swamps of Degobah, Luke was chillin' with this green midget motherfucker who was cool as shit! I was sittin' there thinking, "Goddamn! How can a motherfucker be this motherfuckin' tiny and not have a motherfuckin' Napoleon complex?" This tiny green motherfucker littler than my motherfuckin' ass and you know I got a goddamn Napoleon motherfuckin' complex!
So Han motherfuckin' Solo and that curly-haird bitch and that goddamned ape motherfucker fly to this suspendin' motherfuckin' city over the planet Bespin called Cloud motherfuckin' City. Just cause the motherfucker's in the sky you call that motherfucker a cloud? Bitch, that ain't no goddamned cloud! That's a motherfuckin' flyin' ass thumb tack! And Lando Calrissian... Goddamn, Lando motherfuckin' Calrissian... Bitch-made motherfucker, right there. A bitch-made, punk ass, dirty, rotten, no-good givin'-Han's-ice-cream-frozen-ass-to-Boba-Fett motherfucker! Just up in the sky givin' black folks a bad name and shit. Fuck Malcolm and Minister Farrakhan, white people scared of motherfuckin' black folks cause of Lando's bitch ass. Ask your white friends at the job if they'll come over and help your black ass move. Ask 'em! Betcha those motherfuckers'll walk away mumblin' shit about some goddamned carbonite.
Then finally, Luke's bitch ass shows up, tryin' to help and shit, but this motherfucker gets into a game of motherfuckin' flashlight tag with that goddamn Wesley Snipes robot motherfucker. I know that's flashlight tag, motherfucker. I played that too, goddamnit, I played that too. And after that helmet-wearin' motherfucker cuts Luke's goddamn arm off, he's got the balls to tell him he's the motherfucker's father! Goddamn! Luke's ass sittin' there goin' "Mo-ther-fuck-er... Bitch, if you really my goddamn father, you better have some motherfuckin' payments comin' my way. I know that goddamned much!" Four motherfuckin' stars! And I'm out this bitch!